ZAREBA® AC GARDEN PROTECTOR ELECTRIC FENCE KIT
Small nuisance animals such as rabbits, raccoons and squirrels can pose a big threat to your garden. The Zareba® AC Garden Protector Electric Fence Kit is an electric garden fence kit that will deter just about any type of pesky critter before it can ruin all of your hard work.
This innovative electric fence is powered by an AC charger that gives the animal a gentle shock if it tries to breach the perimeter, while also conditioning it not to return. You can even utilize our electric garden fence as a training tool to teach your dog, cat or other four-legged pet to stay out of your garden. You should keep your electric fence charger protected from the weather by storing it either indoors protected from moisture, or outdoors in a protective enclosure.
One kit can cover a 625-square-foot area (25 foot x 25 foot) using one strand. More strands are needed depending on what animal you are trying to contain or repel. By adding more kits, you can extend the charger's range to one mile.
Protect your electric fence charger from the weather by placing it indoors in a moisture-free place, or outdoors in a covered enclosure.
Key AC Garden Protector Electric Fence Kit Features and Benefits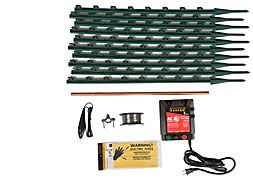 Humane pest control solution that can be used with family pets
Flexible solution that can be conformed to fit the unique shape of your garden
Kit comes with charger, wire fencing, posts that provide easy wire attachment via clips, and ground rod
Charger can be plugged into any standard 110V outlet – no batteries required
Fast and easy installation
Little routine maintenance is necessary
One year warranty
Our Electric Garden Fences Control by Conditioning
If you had the misfortune of accidentally sticking your finger into an electric socket as a child, the experience probably conditioned you to never do it again! Our electric fence for gardens applies the same principle for deterring small animals. The electric shock the animal receives when touching the fence, while harmless, is enough to condition the critter to think twice about attempting to enter your garden again. As a result, an electric garden fence serves as an effective physical and psychological barrier.
Keep your garden free of unwanted pests with the Zareba® AC Garden Protector Electric Fence Kit!
If more fence posts are needed for this kit, you can purchase our Zareba® 30-Inch Green Garden Fence Posts.
Zareba® is the largest manufacturer of electric fence systems offering durable, reliable electric fence products for all of your animal fencing needs, including electric fencing for garden protection.
Zareba® electric fence systems provide effective, reliable and affordable electric fencing to keep critters out.